The beautiful Alison Smith.
Alison was always a country girl at heart even spending her vacation time in a caravan in Kent. She readily admits to her new farm boss that as a shop girl in London where she sold garden furniture and picnic baskets she would think about the bucolic lifestyle, "I used to imagine my deckchairs and beautiful gardens. And my picnic baskets opened in the woods and fields." Alison compares the differences between living in London and Chillingbourne. Her conclusion is that honest hard work in the country far outweighs the sadness and ugliness of living in a big city.
There were a number of reasons which influenced Mrs. Foster to hire Alison as a Land Girl.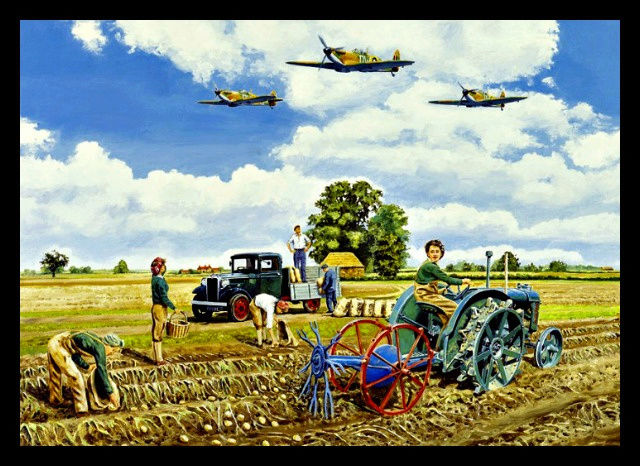 CLICK HERE
Mrs. Foster said to Bob on Saturday morning at the Hand of Glory that Alison was a great strong girl and was needed on the farm. Alison was in her early twenties, so obviously she was no weakling, but more importantly, she had a great attitude with a genuine work ethic to match. Alison volunteered to be a Land Girl which means she wasn't afraid to get her hands dirty. Let's remember that before Alison went to her room at the Hand of Glory on Friday night, she was helping Albert with the beer glasses. He could not believe that a guest wanted to do "real work" as he put it. Alison also told Albert that her fiancé at that time was the geologist who was working on the Pilgrims Road at the BEND which so impressed Albert that he passed on all the information about Alison to Mrs. Foster who woke-up the next morning determined to hire her.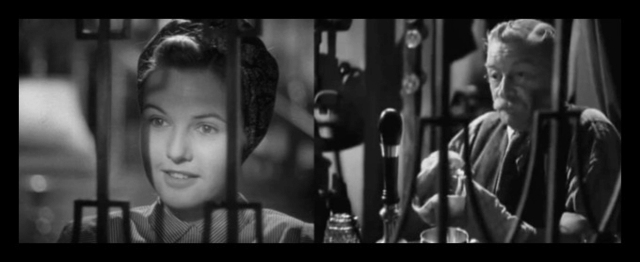 Alison's surname is SMITH, linking her to England's medieval artisans.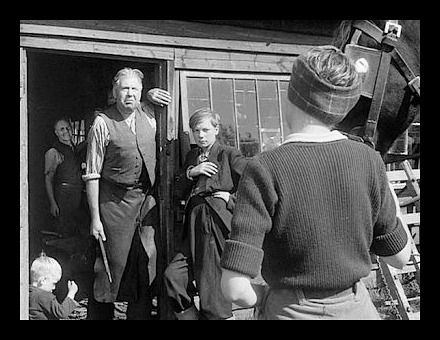 Alison shows her compassionate side when she intently listens to Bob express his frustration of not hearing from his girlfriend. Alison then goes on to express her own grief at losing her friend (Geoffrey) who she thought was killed by enemy action.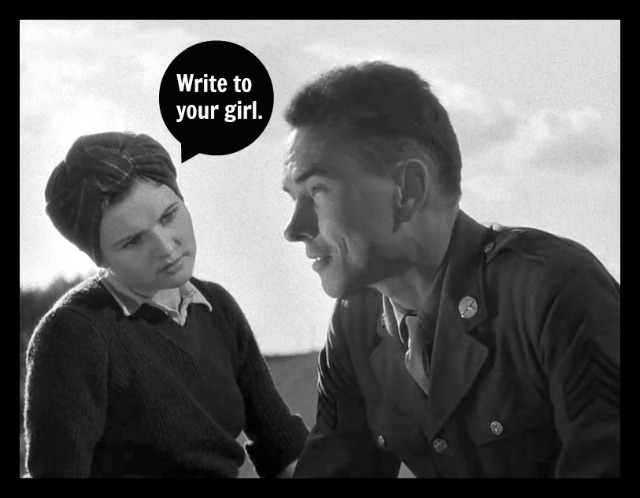 Alison showed no concern of Colpeper's presence when she arrived on the hill, even with nobody about, and she was willing to sit right beside him in the long grass.
It's obvious that Alison was carrying a torch for Geoffrey, so the purpose of her walk to the BEND in the Pilgrims Road was to reconnect with her "dead" fiancé with whom she spent thirteen days in a caravan helping him "dig up the past." When Alison sees Canterbury Cathedral from a distance, her reconnection with Geoffrey merges with Chaucer's strong minded female character, "Alyson" - the well known Wife of Bath. The reconnection experience is complete when she hears manifestations of the sounds of the old pilgrims. Even though Alison's investigation exposed Colpeper as the Glue Man, she had a change of heart about his motives as can be seen when she admits to being mistaken about his character, "We have to dig to find out about people as well as roads."
CLICK HERE
When Alison arrives in Canterbury she takes Bob to the cathedral and then walks the streets past a number of business signs. Not only have the buildings been bombarded, but also Alison, who is "bombarded" with signs as she makes her way to the Agricultural Committee. The multitude of signs she sees indicate that the businesses have not been destroyed, but have been relocated. The fact is those symbolic signs are "speaking" to Alison hinting of an incredible secret that would soon be revealed.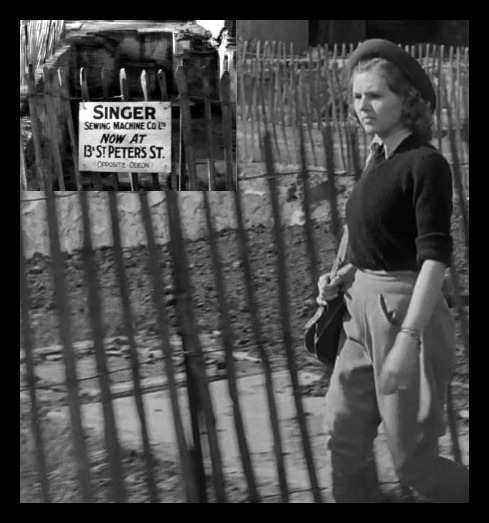 CLICK HERE
After meeting with the Agricultural Committee, Alison walks to Rose Lane Garage. There she gets very upset because her caravan, filled with precious memories, is in a dilapidated state. Colpeper fails to comfort her when he says "There's something impermanent about a caravan." However, Alison's tears turn to joy when Mr. Portal tells her the wonderful news that Geoffrey was not killed, but is alive in Gibraltar.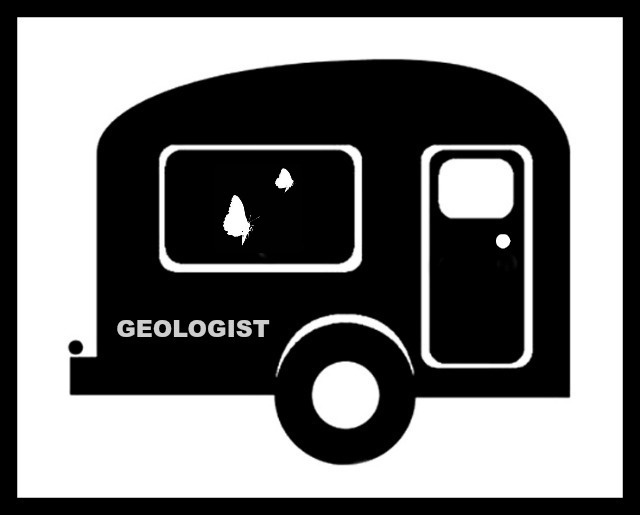 CLICK HERE
Alison showed her patriotism when she eagerly joined the Women's Land Army. Geoffrey had come from a "good family" and joined the war effort by becoming a pilot in the RAF. Even though Geoffrey's father opposed the marriage of his geologist son to a common shop girl, he got his priorities right after Geoffrey was found alive. He realized that the couple's three year engagement was not in their best interest and that they should be married. Notice in Canterbury Cathedral how Geoffrey's father symbolically puts his arm around Alison's shoulder at the exact moment they pass Colpeper. The Glue Man's behaviour only hurt himself. And Alison was finally allowed to marry the man she loves.
Geoffrey's father travelled from Otford to Canterbury which is part of the Pilgrims Way.
CLICK HERE
Alison showed great determination to solve the Glue Man mystery. She was the only woman to join Bob and Peter to expose Colpeper as the glue throwing villain. If the village of Chillingbourne had a local newspaper, rather than just the radio and pub, Alison would have made the front page.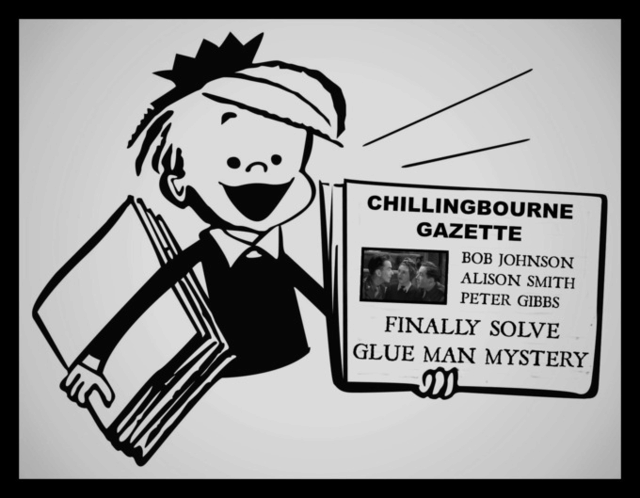 ---
Permissions in this forum:
You
cannot
reply to topics in this forum